Welcome to Preschool!
We are delighted to have joined the Stapeley Broad Lane Team and have the opportunity to open up a new Preschool. We have been up and running since January 2023. Our setting is in a mobile classroom, within the school grounds and we have created an inviting and exciting indoor learning space for Preschool aged children. Our teaching and learning environment offers a wide range of stimulating activities and resources, which promote each child's learning across all areas of the Early Years Foundation Stage framework. We are utilising the main school hall space and school grounds while plans are put in place to create an outdoor learning space.
Our Preschool hours are 8.45-11.45am for a morning session and 12.15-3.15pm for an afternoon session.
Children can bring their own lunchbox or enjoy a school dinner. They have their lunch in the school hall.
"Wrap-around care" is offered by our before and after-school club. You can use your FEEE funding to cover extended school days.
If you would like to make any enquiries about our Preschool, please do not hesitate to contact the school office. We would love to hear from you.
Our new children have settled so well and we are really proud of how they have started this adventure with us!
Meet The Team
Mrs Newson
BA Honours (Primary Education)
Preschool Teacher Monday, Tuesday, Wednesday and Preschool Manager
Mrs Lawton
Preschool Teacher Wednesday, Thursday and Friday.
Mrs Phillips
Full Time Teaching Assistant
Our learning environment
Our indoor provision is almost complete! We are still waiting for some lovely bits and pieces to arrive but we have established an environment which encourages creativity and imaginative play and most importantly, is warm and inviting for the children. We have lots of fun and we love crafts!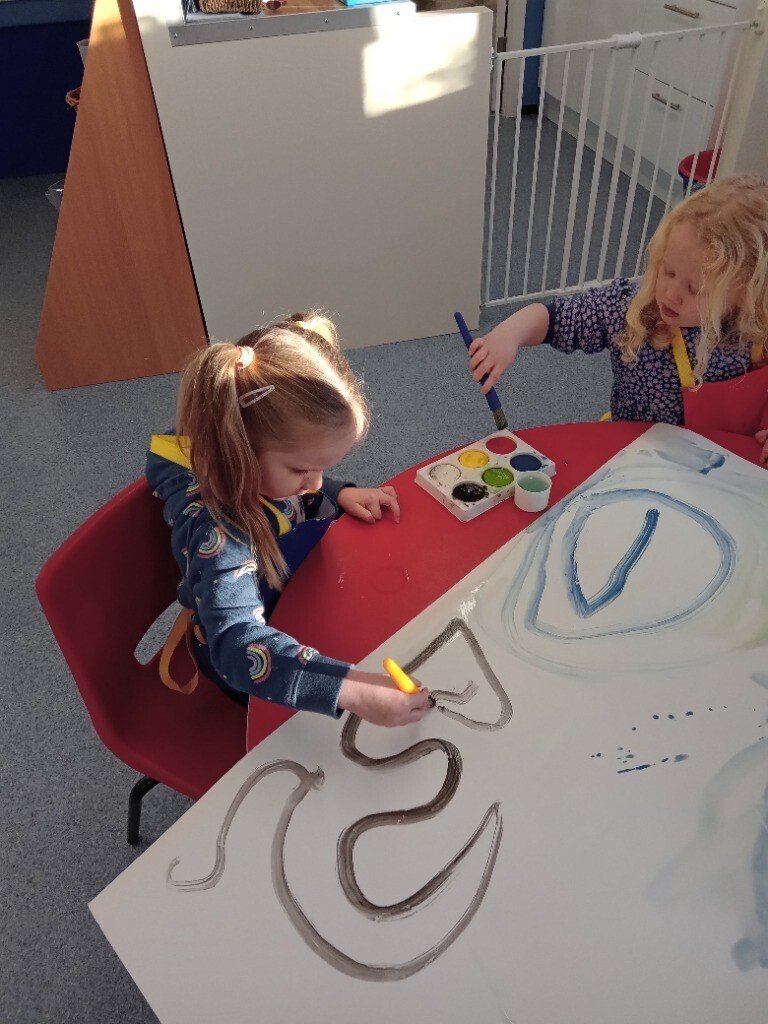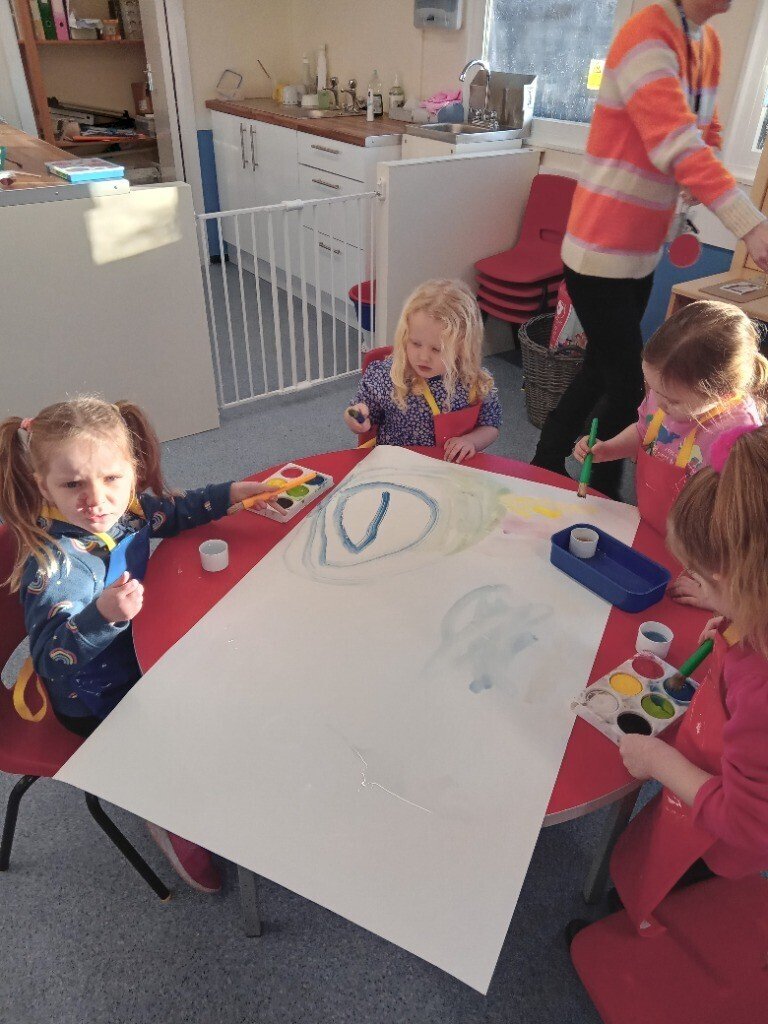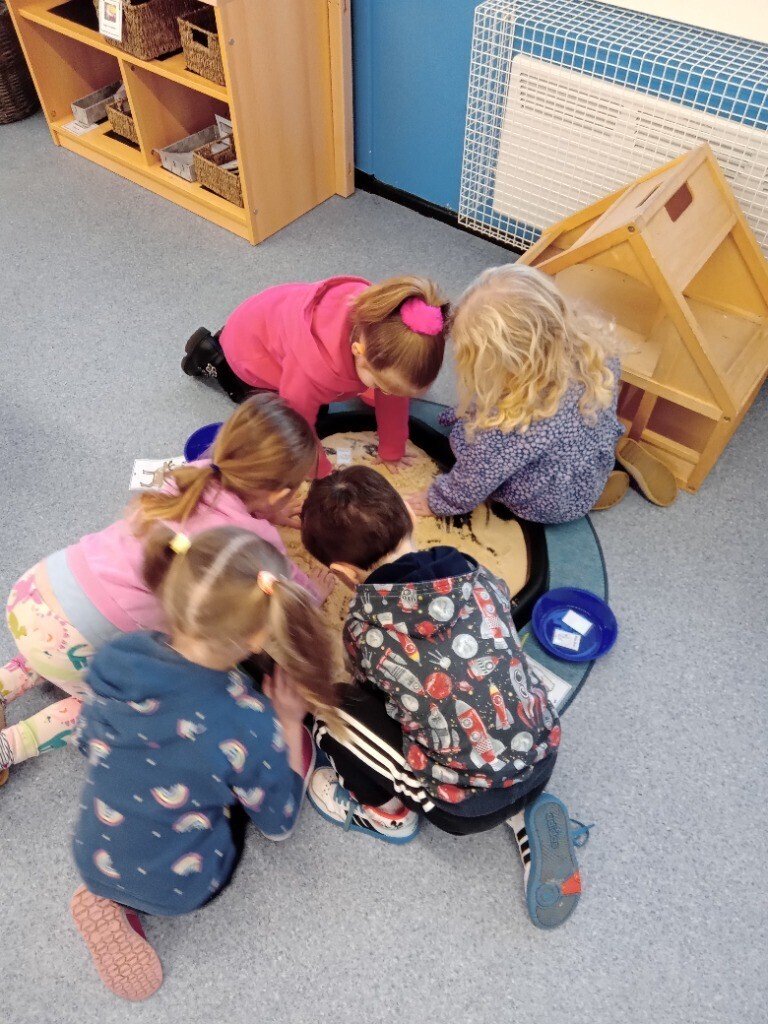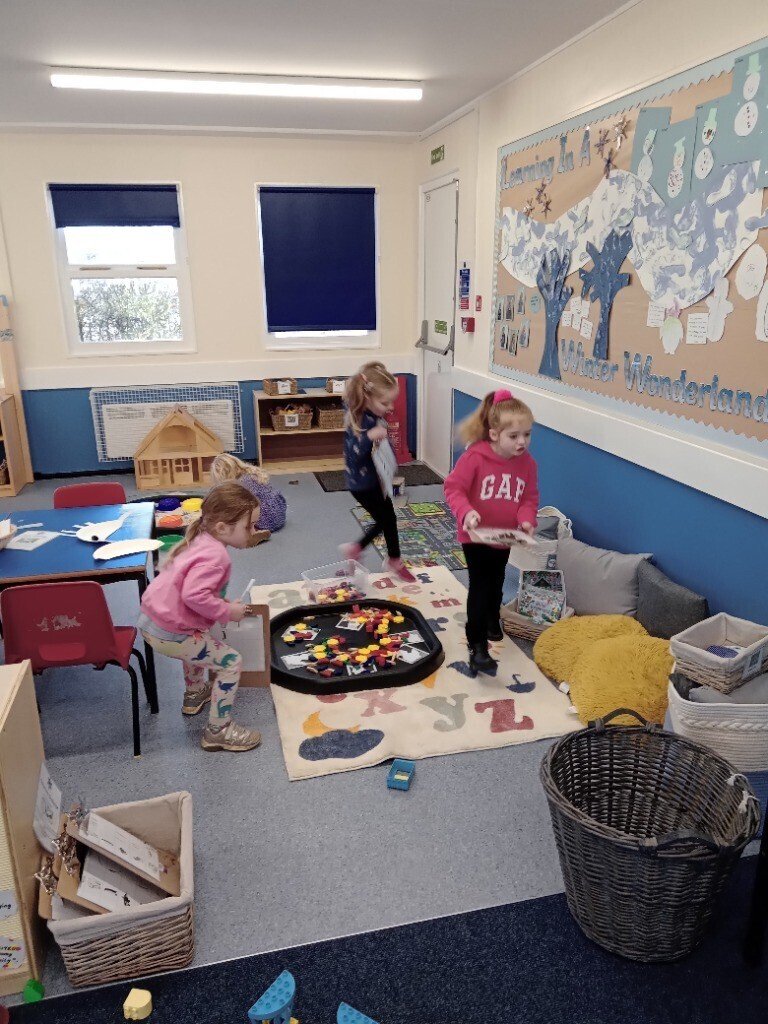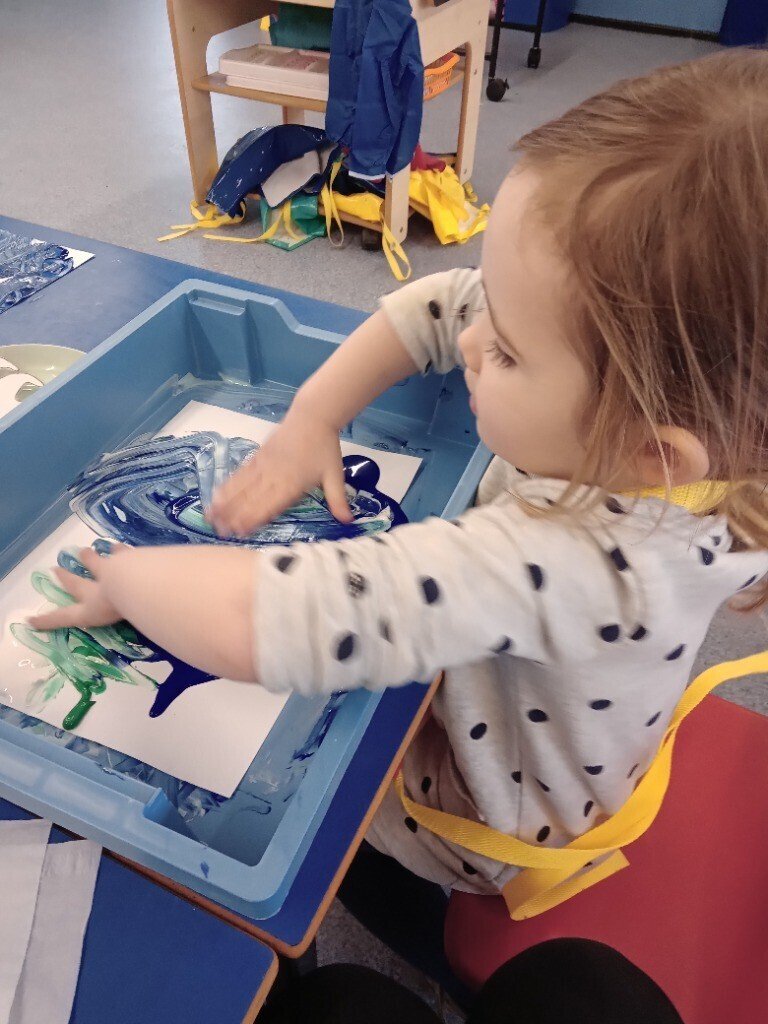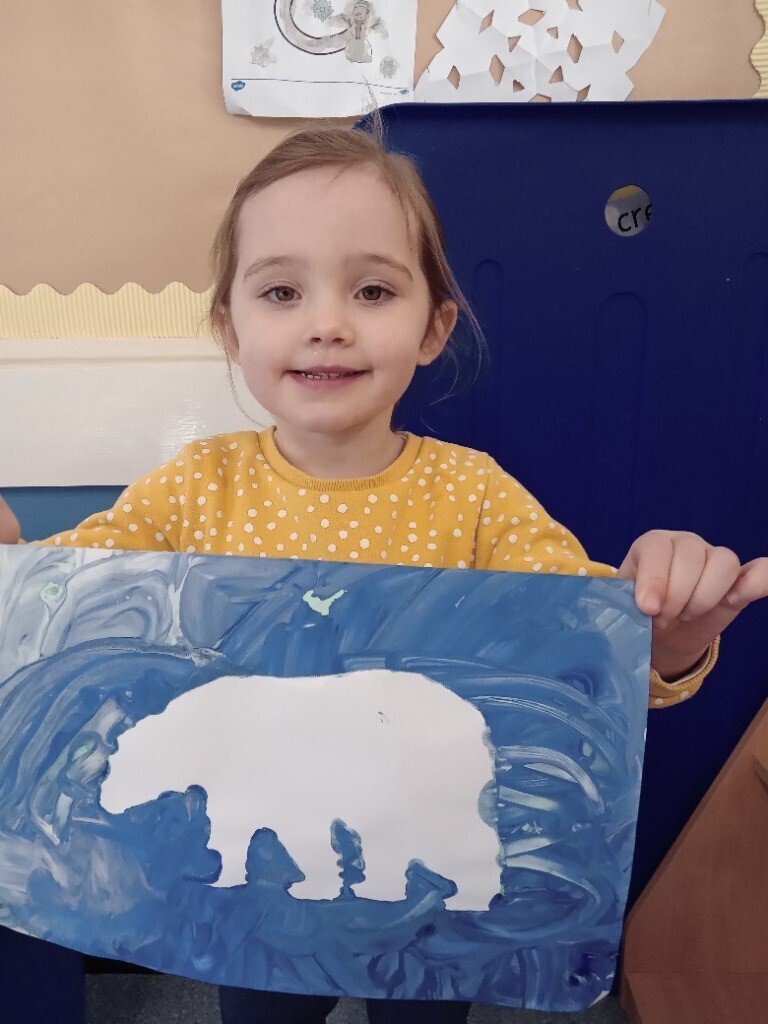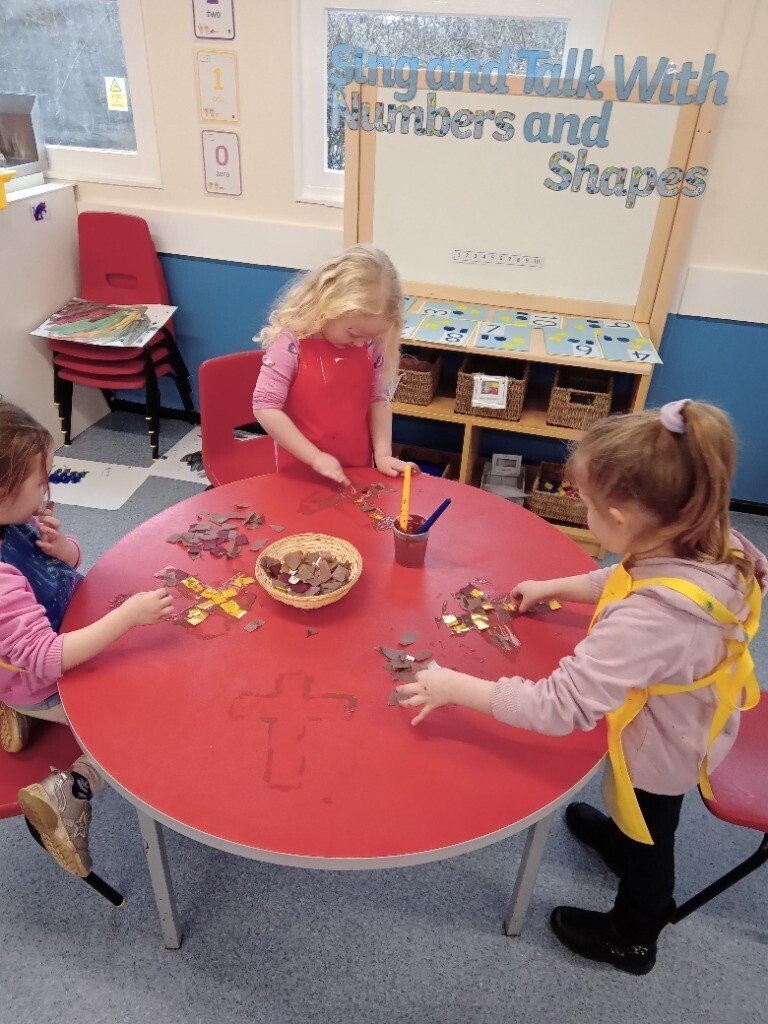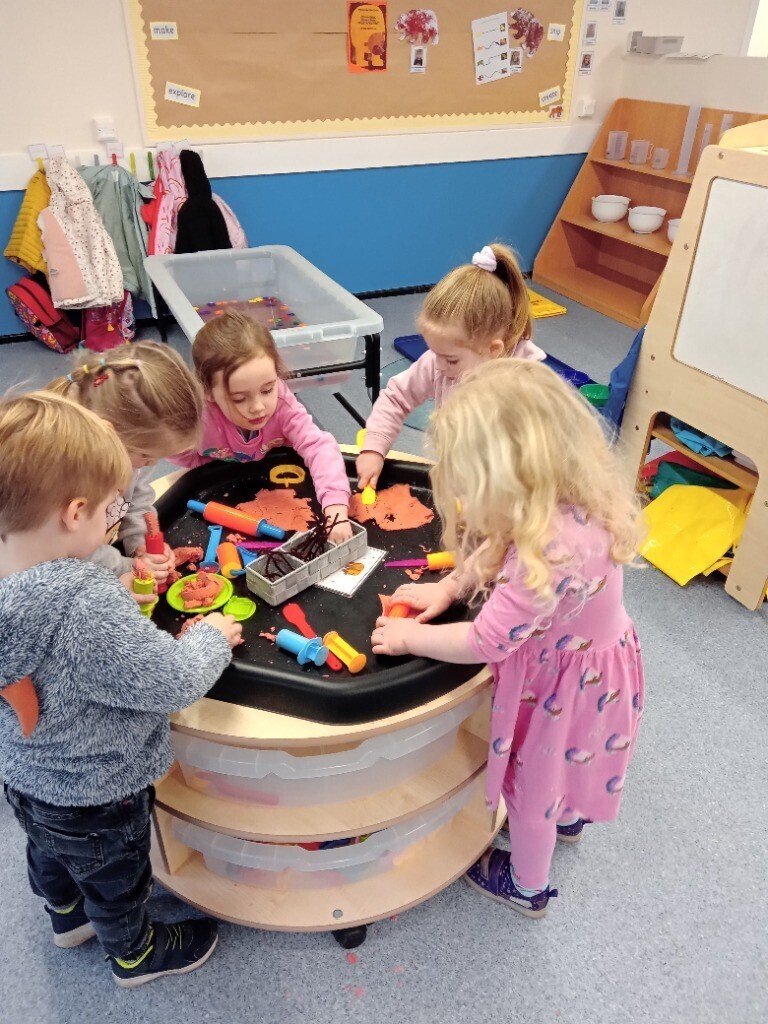 Our outdoor area is yet to be completed. So to compensate, we make use of the school playground, forest area and Golden Mile track around the field.
We also use the hall during the week for games, dancing and physical development activities.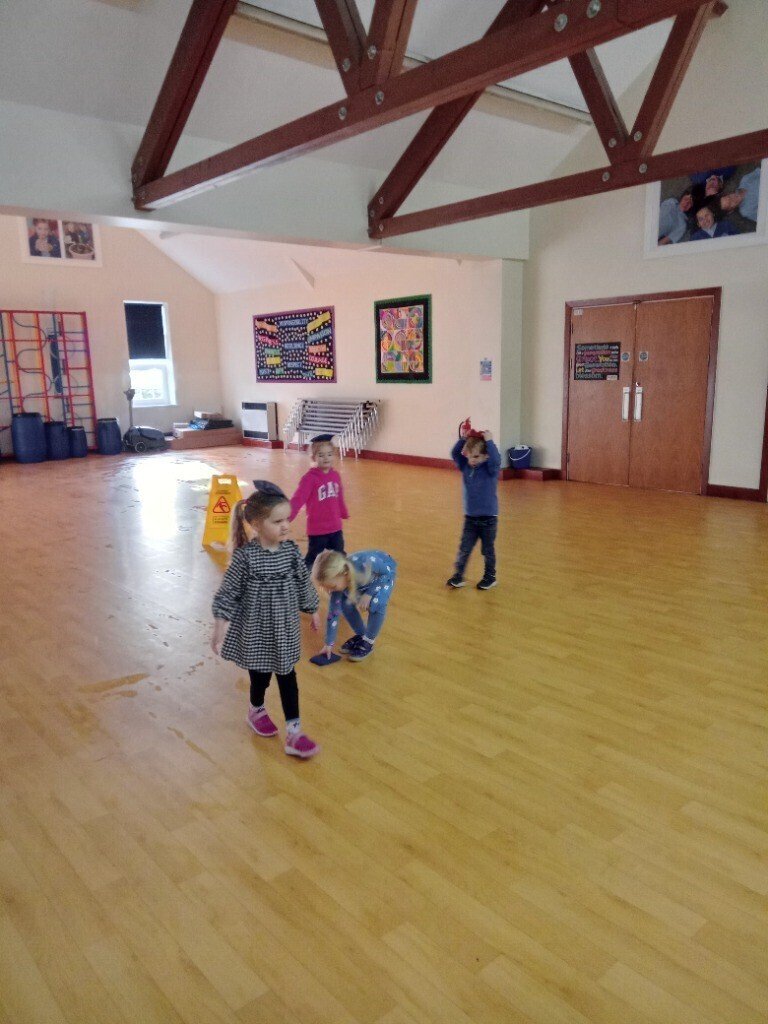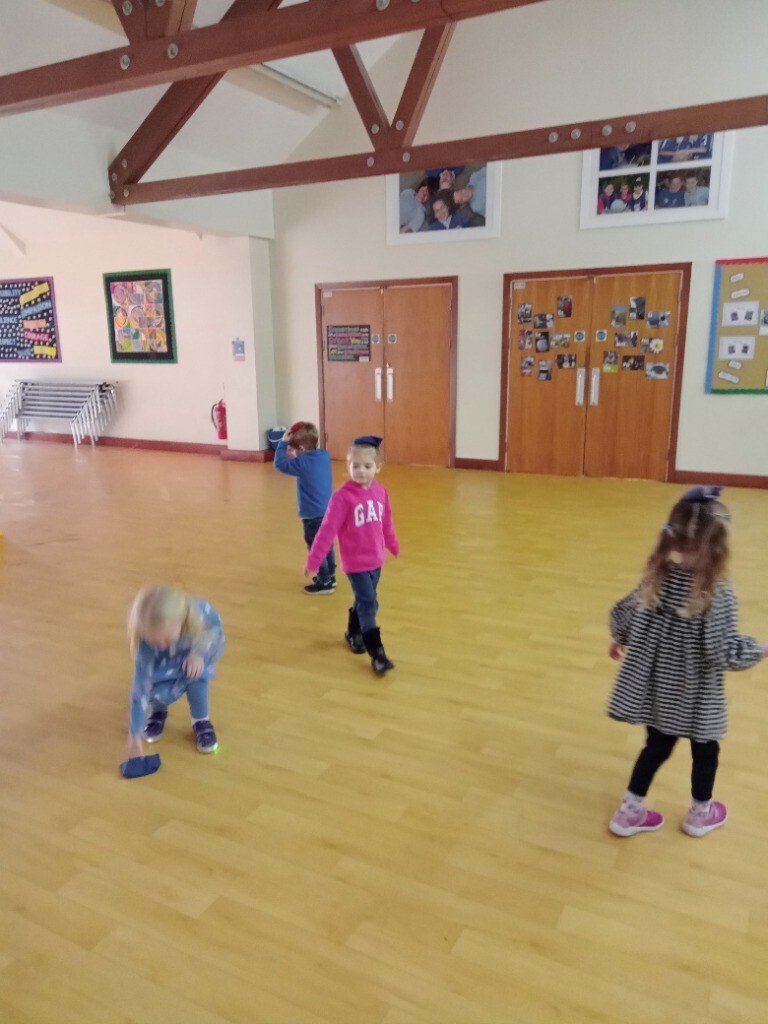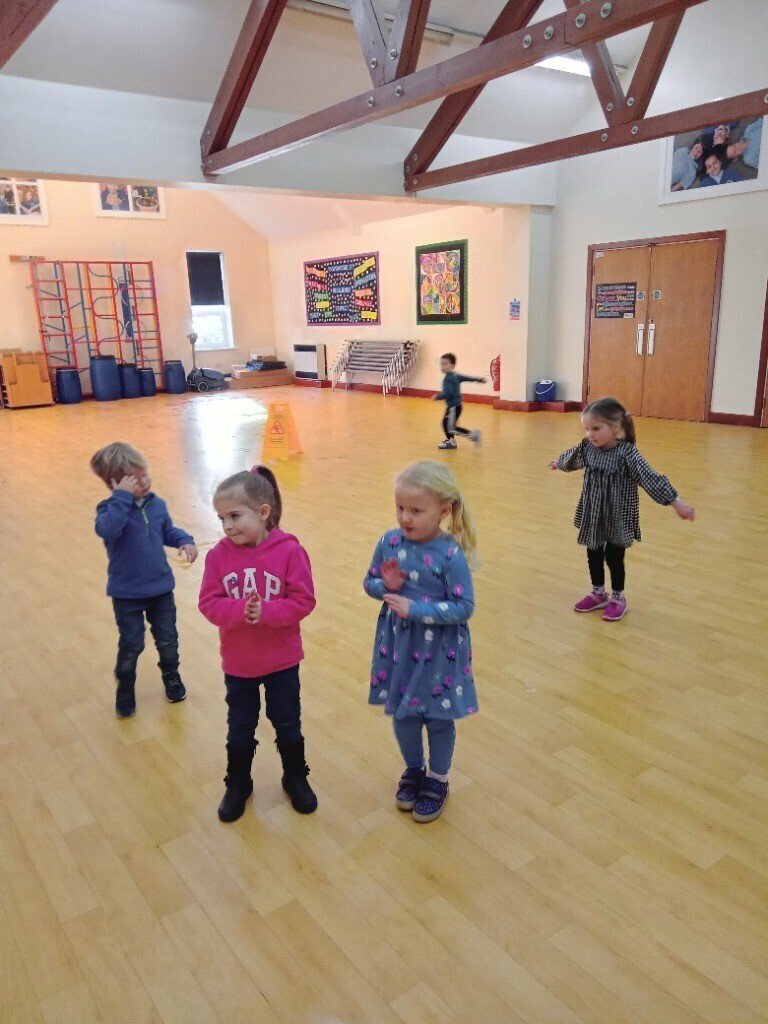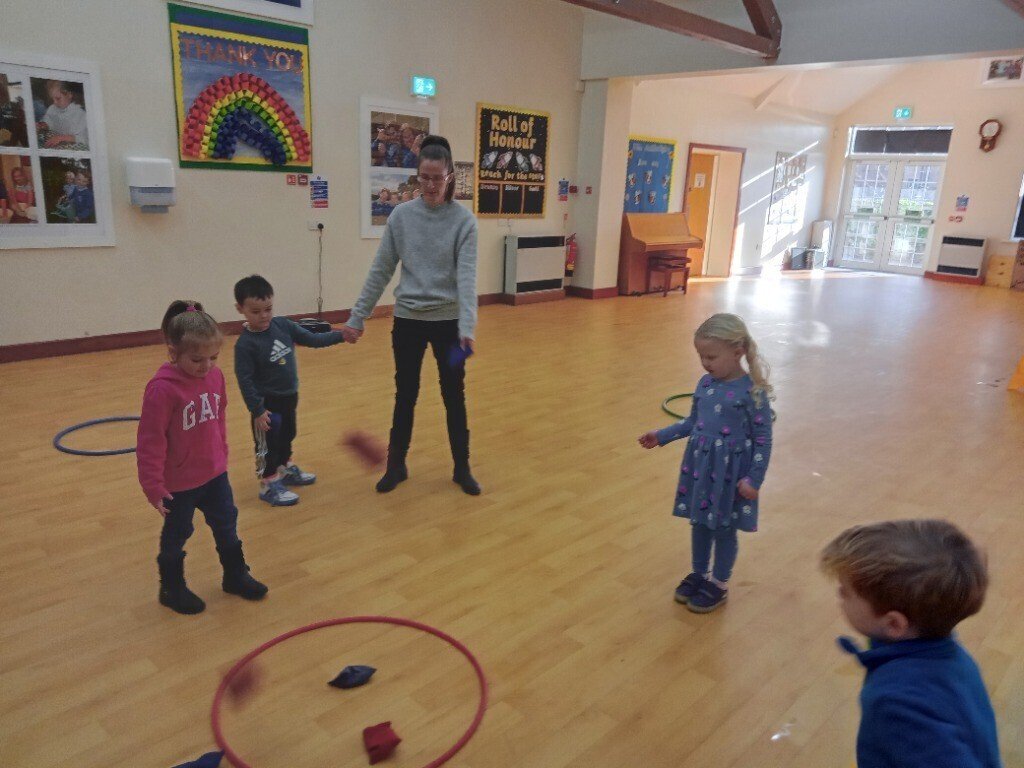 Provision and the Early Years Curriculum.
Our curriculum and practice is led by the Statutory Framework for the Early Years Foundation Stage. We learn through seven key areas of learning which include:
Three Prime Areas:
Personal, Social and Emotional Development: Making Relationships, Self Confidence and Self Awareness and Managing Feelings and Behaviour
Physical Development: Moving and Handling and Health and Self Care
Communication and Language: Listening and Attention, Understanding and Speaking
Four Specific Areas:
Literacy
Mathematics
Understanding of the World
Expressive Arts and Design
In our Preschool, we focus on the prime areas to promote independence and self confidence, this will then enable children to be successful in the specific areas of learning.
When planning and guiding children's activities, we reflect upon the different ways that children learn and include these in our provision. The 3 Characteristics of Effective Teaching and Learning are:
Playing and exploring – engagement
Finding out and exploring
Playing with what they know
Being willing to have a go
Active learning – motivation
Being involved and concentrating
Keeping trying
Enjoying achieving what they set out to do
Creating and thinking critically – thinking
Having their own ideas
Making links
Choosing to do things
What are we learning about?
We started learning about the Winter. We've had 3 weeks of learning all about the weather and the animals who live in the Arctic and Antarctic.
It was lovely to have finally had some snow, just as we've finished the Topic. The children have had great fun out in the snowy weather!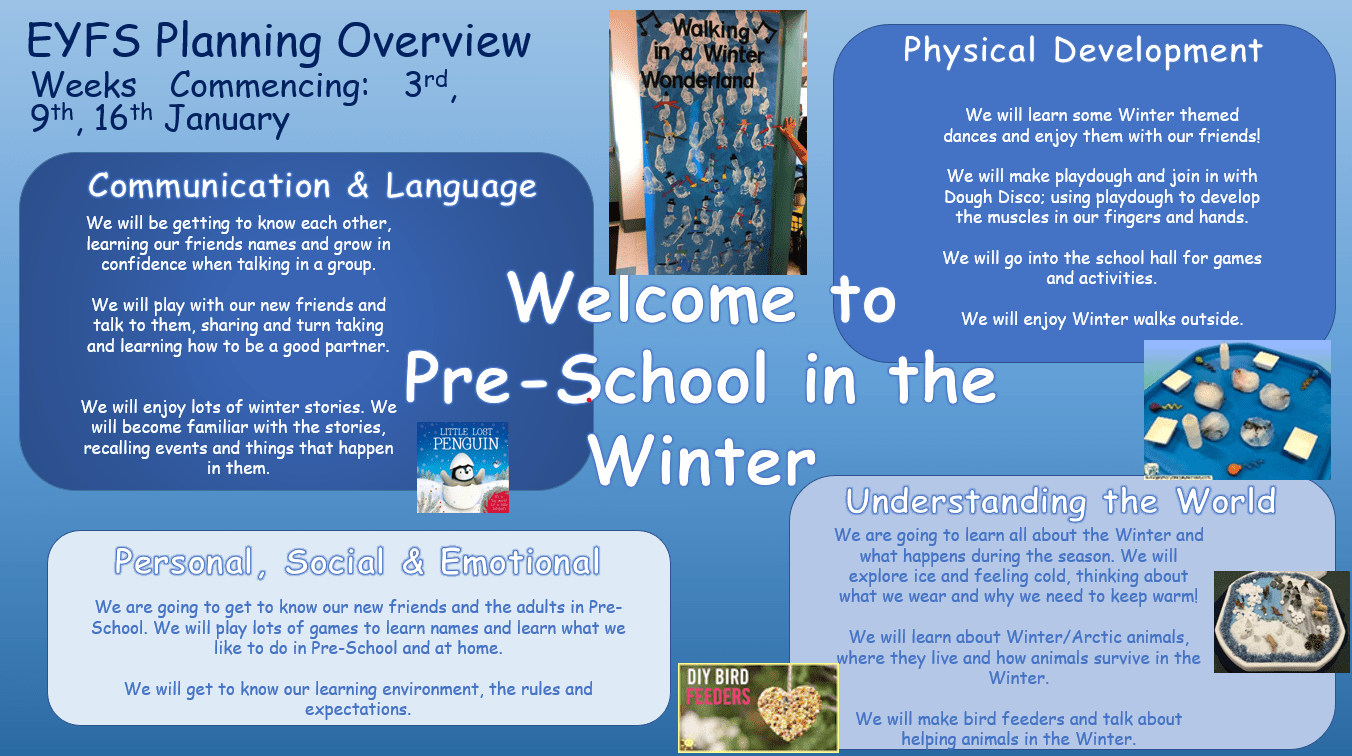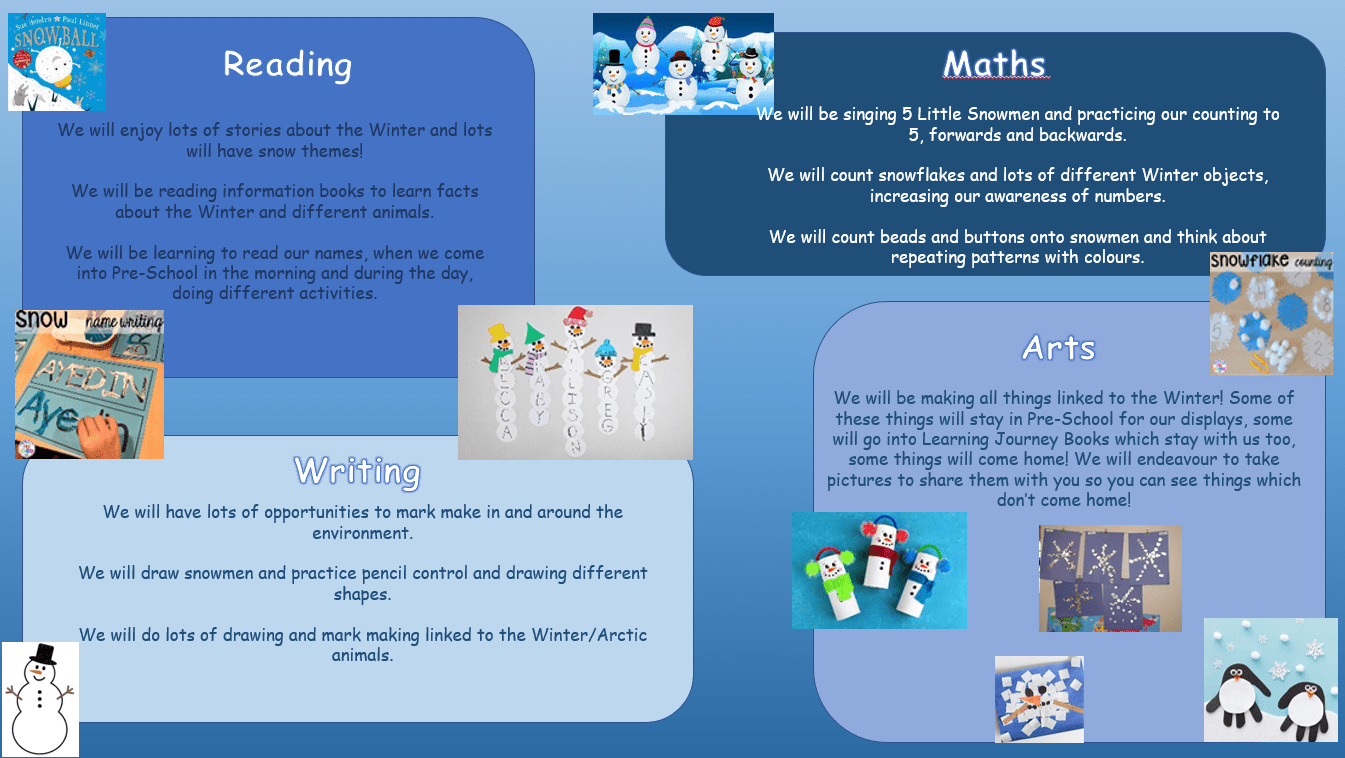 We are going to focus on books by Eric Carle over the next 3 weeks, until February Half Term!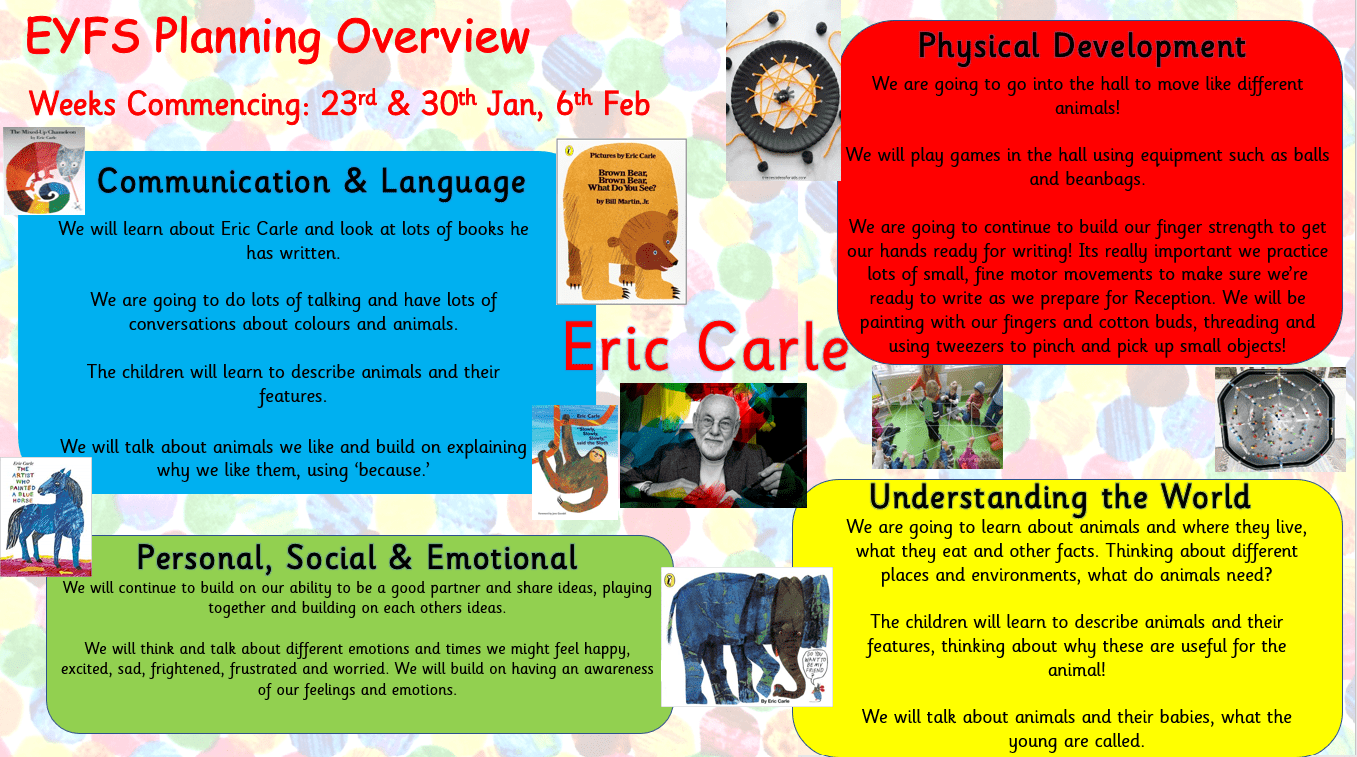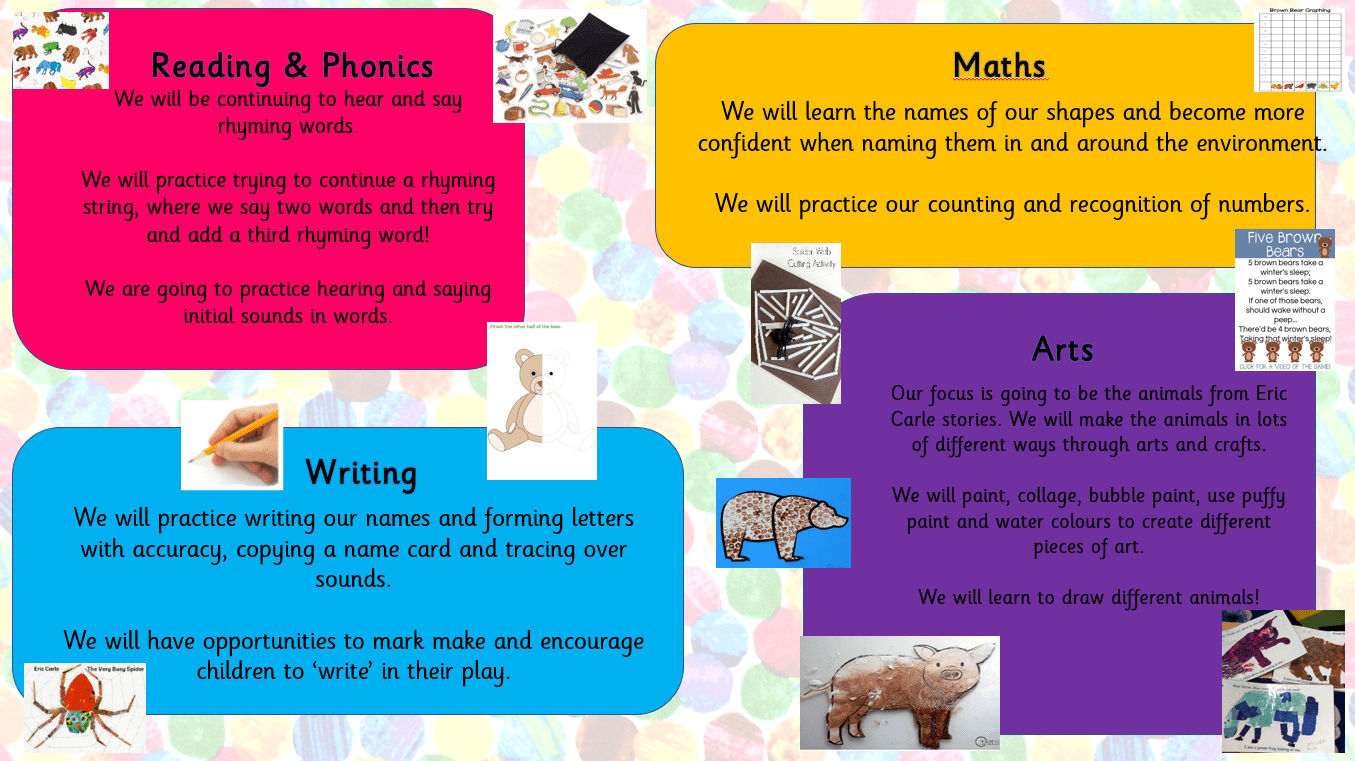 We've also got Pancake Day to celebrate (even if it's a few days early, we cant resist!) and we will do some 'random acts of kindness' and focus on being loving a caring during the week of Valentines Day.
How do we share our learning with home?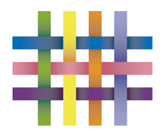 "Tapestry keeps you in touch with your child's day wherever you are"
We are using Tapestry to share all the exciting things the children learn. It's also a great way for you to share with us things you do at home; evenings, weekends, holidays! Here are a few things you might like to share with us.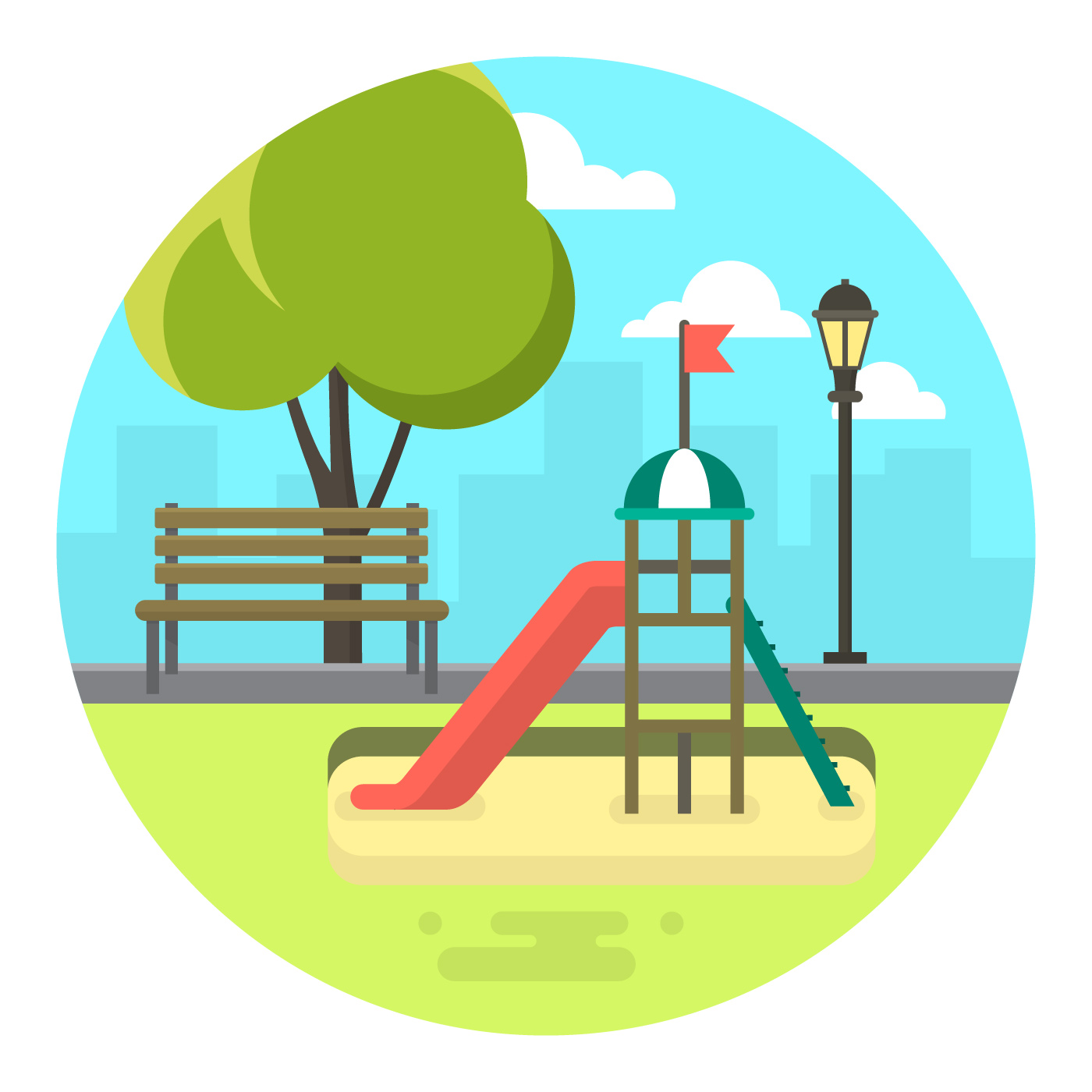 You might go to the park or have an exciting day out! What did you do? Who did you go with? Did you have fun?
Have you been for a walk or done something exciting in a forest? You might have collected sticks or looked for leaves and jumped in muddy puddles!
Did you do some baking? You might have made a delicious cake or some cookies! How did you make it/them? Did you help to weigh the ingredients? Did you recognise any numbers on the scales? How did the your baking creation taste?
We will share anything you upload during Show and Tell, this is more often than not on a Wednesday.
This video runs through how as a parent or relative on Tapestry you can add your own observations of your children. Click on the link.
Tapestry for parents/relatives: Adding an observation - YouTube
Some help and advice for Parents and Carers at home
Here are some websites you might find helpful.
Tiny Happy People is here to help you develop your child's language skills. Explore our simple activities and play ideas and find out about babies and toddlers' amazing early development. Click on the link below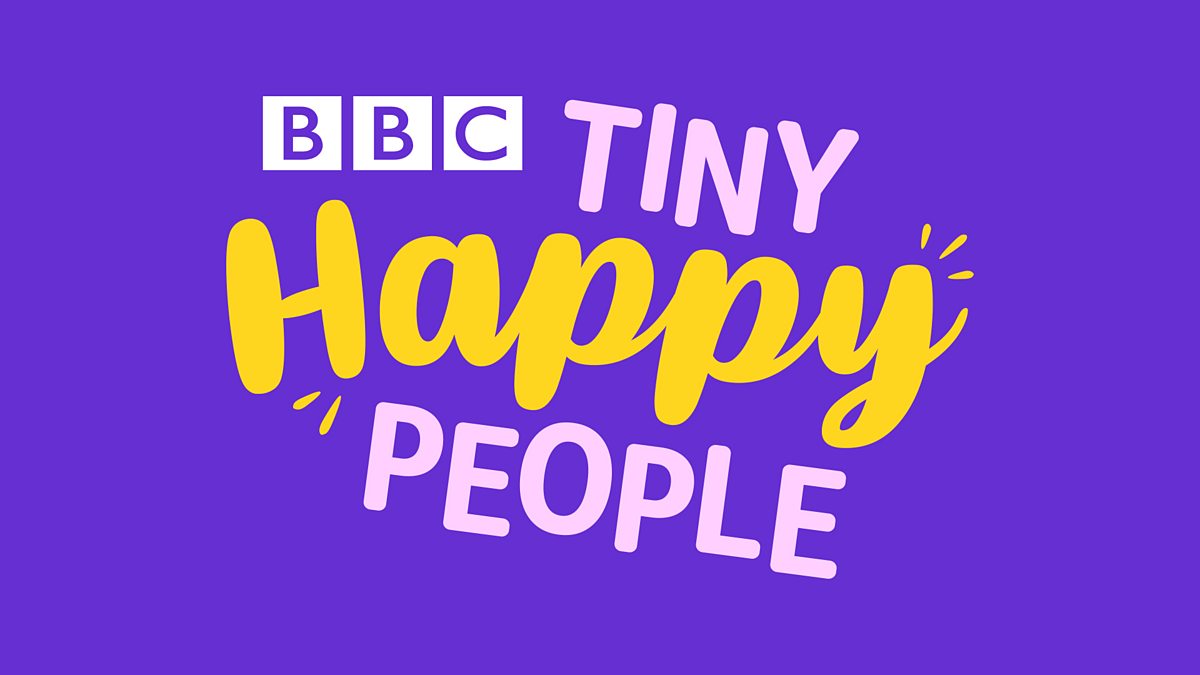 Children's language development and parenting advice - BBC Tiny Happy People